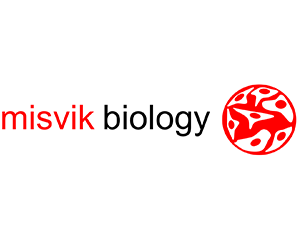 Misvik Biology is an SME providing state-of-the-art high-throughput screening (HTS) services for cell biology and toxicology-oriented research.
The overall mission of the company is to convert customer requests into high-throughput or ultra-high-content biology experiments and provide systems level information about cellular processes in health and disease.
The company is involved with novel developments in four dimensional biology – three spatial dimensions and time – to provide quantitative results on the assemblies of molecules, cells and tissues function in normal and disease states, and to use this information to improve biological understanding, disease detection, diagnosis and treatment.
Main tasks:
Misvik Biology will contribute high-throughput and high-content screening data from other projects to the integrated proof-of-principle examples and use cases in eNanoMapper. In addition, Misvik Biology will take part in various modelling efforts in close collaboration with University of Athens.
Previous experience:
Misvik Biology has set up a state-of-the-art cell-based high-throughput and high content screening (HTS) system. Misvik Biology is equipped for systems biology and "omics" computational analyses for target and response pathways identification of toxicity effects of ENM. Prof. Grafström participates in the EU FP projects ToxBank, NANoREG, NanoGER II, NANOSOLUTIONS, and COST project MODENA devoted to database, omics, QSAR, adverse outcome pathway identification and methods developments for toxicity prediction/safety testing of chemicals and engineered nanomaterials, respectively.
Short profiles of the staff members:
Prof. Roland Grafström received a Medical Science degree 1980. His CV lists ~150 peer-review research articles and international prizes related to environmental medicine, toxicology and alternative methods research. He also maintains a tenured Professor position at the Karolinska Institute (KI), Stockholm. Vast experience in application of human cells to high throughput assays for toxicity analyses, cancer research and omics-based biomarker discovery.
Dr Pekka Kohonen is an expert on toxicogenomics, data curation (ISA-TAB), integrative omics analyses and high-throughput/high content screening data analysis to predict toxicity of compounds. Won the 2014 Lush Science prize together with RG for contributions to 21st Century Toxicology to replace animal use in toxicity testing.
Dr. Vesa Hongisto has vast experience with cell-based assay technologies, including with their design and with small molecule, siRNA, drug and engineered nanomaterial high throughput screening projects. Familiar also with using genomic data and validation using standard laboratory techniques.
Dr. Juha Rantala, CEO of Misvik Biology. Record as a Research Professor at Oregon Health and Science University and Knight Cancer Institute coordinating a service high-throughput screening core at the Department of Biomedical Engineering. Experience in functional cell biology research for exploring novel therapeutic opportunities and mechanisms underlying disease development.
Publications
| | |
| --- | --- |
| 1) | Kohonen P, Ceder R, Smit I, Hongisto V, Myatt G, Hardy B, Spjuth O, Grafström R. Cancer biology, toxicology and alternative methods development go hand-in-hand. Basic Clin Pharmacol Toxicol. 2014;115(1):50-8. |
| 2) | Kohonen P, Benfenati E, Bower D, Ceder R, Crump M, Cross K, Grafström RC, Healy L, Helma C, Jeliazkova N, Jeliazkov V, Maggioni S, Miller S, Myatt G, Rautenberg M, Stacey G, Willighagen E, Wiseman J, Hardy B. The ToxBank data warehouse: supporting the replacement of in vivo repeated dose systemic Toxicity testing.  Molecular Informatics 2013 32 (1), 47-63. |
| 3) | Costantino L*, Sotiriou SK*, Rantala JK*, Magin S, Mladenov E, Helleday T, Haber JE, Iliakis G, Kallioniemi OP, Halazonetis TD. Break-induced replication repair of damaged forks induces genomic duplications in human cells. Science. 2014 Jan 3;343(6166):88-91. |
| 4) | Rantala JK*, Pouwels J*, Pellinen T, Veltel S, Laasola P, Mattila E, Potter CS, Duffy T, Sundberg JP, Kallioniemi O, Askari JA, Humphries MJ, Parsons M, Salmi M, Ivaska J. SHARPIN is an endogenous inhibitor of β1-integrin activation. Nat Cell Biol. 2011 Sep 25;13(11):1315-24. |
| 5) | Hongisto V, Jernström S, Fey V, Mpindi JP, Kleivi Sahlberg K, Kallioniemi O, Perälä M. High-throughput 3D screening reveals differences in drug sensitivities between culture models of JIMT1 breast cancer cells. PLoS One. 2013 Oct 23;8(10):e77232. |